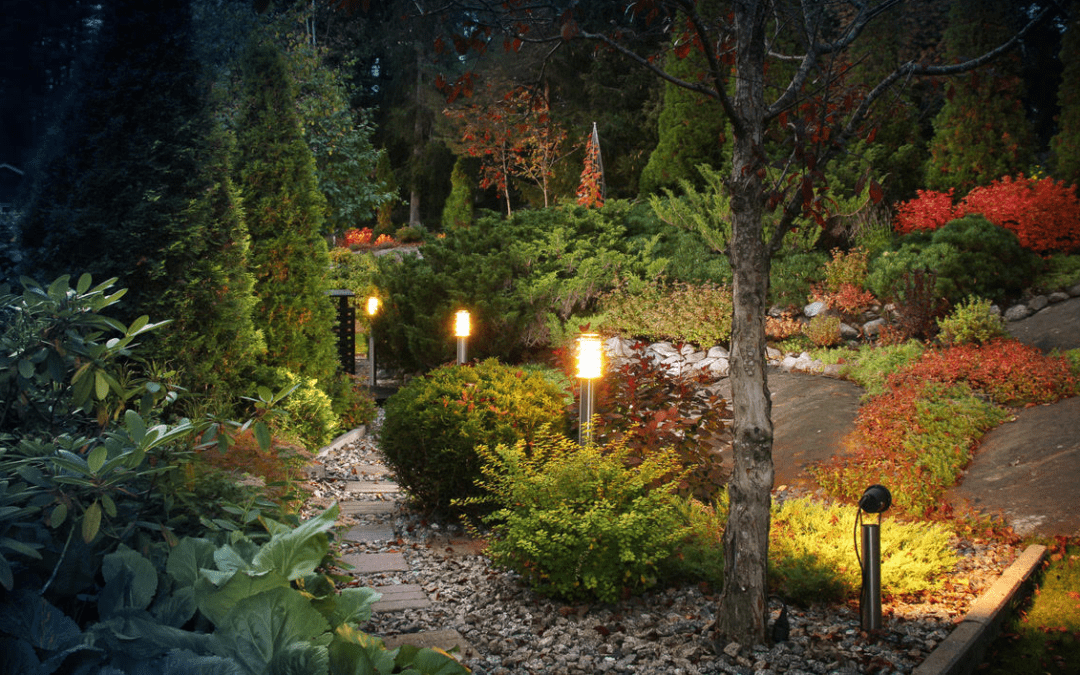 Pandemic Has Boosted Demand for
Outdoor Living Spaces
---
With more homeowners investing in their outdoor living spaces during the COVID-19 pandemic, the demand for landscape lighting has continued to grow.
As a result, more irrigation and landscape contractors are adding outdoor lighting to their menu of services.
No Place Like Home
For the past two years, homeowners have spent more time and money on home improvement than ever before. And statistics show that residential landscaping has been the top priority during this period. Outdoor areas for cooking and entertaining are being updated, expanded, and illuminated with extensive area lighting.
Did You Notice
These Changes?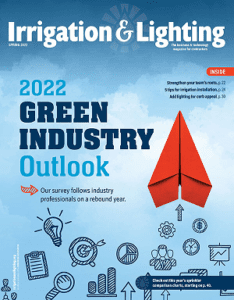 Earlier this year, the Irrigation Association replaced its Irrigation & Green Industry publication with Irrigation & Lighting. The new periodical, published quarterly instead of monthly, provides news and information to landscape irrigation and lighting contractors.
---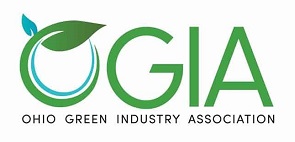 The Ohio Nursery & Landscape Association (ONLA) has changed its name to the Ohio Green Industry Association (OGIA). The change is intended to make the organization more inclusive and reflect its commitment to all green industry professionals across the state.

Landscape designers know that one of the most effective ways to decompress when the world has run amok is with soothing low-wattage outdoor lighting. Moonlighting (soft lights that mimic silvery moonlight due to their very high placement in trees or structures) and downlighting (aiming lamps downward to imitate natural light) are two relaxing options that never go out of style.
In addition, homeowners are increasingly opting for smart outdoor lighting, a market that is expected to make strong gains through 2024, according to market research firm Freedonia Group. Smart technology allows users to switch outdoor fixtures off and on — and even adjust brightness and color — through remote control or voice activation.
Amp Up Your Irrigation Business
Does your irrigation business include landscape lighting services? If not, here are a few reasons to consider branching out:
Outdoor lighting is simple to learn and requires no additional licensing.

Outdoor lighting is safe due to the low voltage.

Installing lights is an uncomplicated way to generate more income from a single job, since lighting wire can easily be laid when digging a trench for irrigation pipe.

—Article Continues Below—

Lighting installation does not require a large crew or additional staff.


Including lighting services in your portfolio makes your business more attractive to homeowners who want one contractor to handle all aspects of a project.
How to Get Started
Although no special licensing or certification is needed to install landscape lighting, you should take at least some training before performing jobs for homeowners. It's a good idea to invest six to 10 hours of class time in order to acquire a basic knowledge of outdoor lighting.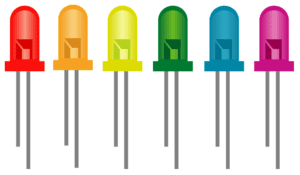 Benefits of LEDs
For low-voltage landscape lighting, LED bulbs are the preferred choice, providing the following benefits to both contractors and homeowners:
LED light uses about a third of the electrical power of incandescent or halogen, and LED lamps can last 20 times longer. Both represent significant cost savings.

Contractors and designers can creatively accent a landscape or outdoor living area by choosing from an array of LED color and temperature variants.
Because LEDs lack both heat and UV light, they are much less attractive to insects.
Time required for bulb replacements and other general electrical issues is greatly reduced.
This training is available through various suppliers (e.g., Wolf Creek Company), as well as lighting vendors (such as Kichler, FX Luminaire and Alliance).
After you've received the training, try it out on your own home or that of your friends. This provides you with an opportunity to experiment and hone your skills before you begin customer installations. For example, you can determine how much light is produced by an LEDs of various wattage. 
When it's time to find a lighting supplier, most contractors choose to stay local for the sake of convenience. But you may wish to get quotes from two or three different distributors. Look for one with the best combination of pricing, product knowledge and experience.
Once your service is up and running, continue to learn as much as you can about outdoor lighting designs and products. (You want to be more knowledgeable than your customer!) Education and experimentation are keys to success when it comes to mastering the profitable business of landscape lighting.
---
Sources:
Featured Image: Adobe, License Granted
Statista
Landscape Business
Architectural Digest