December 3-7 at the Long Beach Convention
and Entertainment Center
---
Irrigation Show 2018 is the only national trade show designed specifically for irrigation professionals.
It's where the irrigation industry comes together to network, learn and promote irrigation. (Did you know it's also the world's biggest irrigation trade show?)
Register by Nov. 1 to save on education classes, full registration and exhibits. Discount housing is also open, and attendees can book their hotel online.
To download the Irrigation Association's 24-page Registration Brochure, click here.
More than 4,000 distributors, dealers, contractors, consultants and growers are expected to attend this year's event in Long Beach, California. You'll have the opportunity to:
Check out new and innovative products, technologies and services.
Learn about the latest business trends and irrigation best practices.
Network with current business partners and with industry leaders who share the Ohio IA's commitment to efficient irrigation.
New This Year: Radio Row
Radio Row is a dedicated space for radio stations and podcasts from across the country to provide live broadcasts and interviews with irrigation professionals and experts attending the Irrigation Show. See some of your favorite ag radio and podcast hosts live and in action.
Extended Floor Hours
This year, show floor hours have been extended to 10:00 a.m. to 5:00 p.m. on Wednesday, Dec. 5, and 10:30 a.m. to 3:30 p.m. on Thursday, Dec. 6.
Educational Opportunities
You can discover great ideas, learn new skills and earn CEUs with some of the industry's most experienced professionals. Landscape irrigation topics for educational classes at this year's Irrigation Show include:
Landscape Irrigation Design
Advanced Irrigation Wiring Methods
Hydraulic Troubleshooting
Alternative Water for Landscape Irrigation
Landscape Drip Irrigation Design
Two-Wire Technology Systems for Landscapes
The Business of Landscape Irrigation Contracting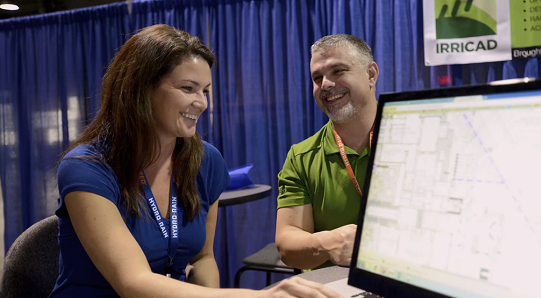 One-hour seminars will provide detailed coverage on a focused topic in landscape irrigation. Seminars are open to all attendees with a full registration. Participants will earn 1.00 CEU for each hour. This year's topics will include:
Weather-Based Irrigation Controllers
Low-Impact Development and Irrigation
Impacts of Irrigation in Building Rating Systems
Using Drones to Improve Irrigation Management

Certification Exams
Exams for the following certification programs will also be available at this year's Irrigation Show:
---