CIT Trainees Learn Basics,
Prepare for Exam
---
Last month, 18 Ohio-area landscaping contractors participated in Certified Irrigation Technician (CIT) training at two separate sites. These Irrigation Association training sessions were sponsored by Wolf Creek Company and Rain Bird.
During the training, contractors learned the basics of hydraulics and irrigation system installation and maintenance. In addition to an overview of irrigation system components and how they operate, attendees learned how to:
Glue and repair PVC pipe
Install nozzles and adjust sprinkler heads
Set and repair electric valves
Utilize various field and controller wiring techniques.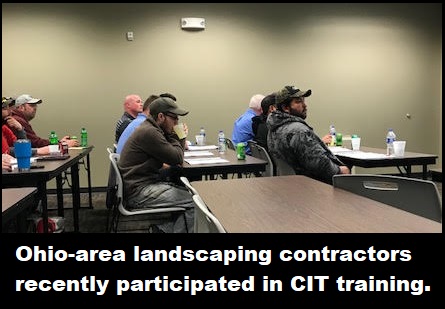 Trainees also prepared for the CIT exam, a prerequisite to receiving certification.
CIT Overview
A CIT is an entry-level irrigation field professional, and it is the newest certification offered by the Irrigation Association. CITs install, maintain and repair irrigation systems. Their responsibilities include: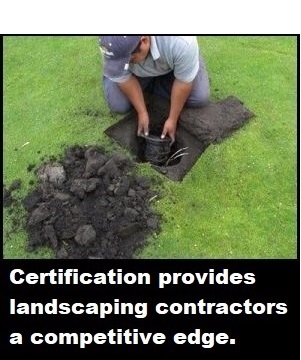 Cutting and joining pipe, with an understanding of basic hydraulics, as well as the limitations of different piping systems.
Laying out and installing pipes and water delivery components; backflow prevention components; mechanical, hydraulic and electrical irrigation controls; and other irrigation system components.
Troubleshooting and repairing all irrigation components and systems.
Becoming a CIT
Certification gives you a competitive edge. By becoming a CIT, you can:
Add instant credibility with customers and employers.
Increase job opportunities.
Demonstrate your commitment to efficient water management.
Qualify for the EPA WaterSense program.
Interested? Here's what you have to do:
Pass the irrigation technician exam. The three-hour exam includes 100 equally weighted, multiple-choice questions on basic irrigation principles, basic electrical principles and basic hydraulics.
CIT Exam Fees
Irrigation Technician Exam Fee — $175 (Member), $300 (Nonmember)
Exam Retake Fee — $175 (Member), $300 (Nonmember)
Annual Renewal Fee (one certification) — $50 (Member), $100 (Nonmember)
Annual Renewal Fee (two or more certifications) — $100 (Member), $150 (Nonmember)