Las Vegas Convention Center,
December 2-6 
---
Did you know that the Irrigation Association's annual Irrigation Show is the world's biggest trade show dedicated to irrigation professionals?
It's where the irrigation industry comes together to network, learn and promote irrigation.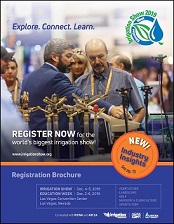 Register by Nov. 1 to save on education classes, full registration and exhibits. Discount housing is also open, and attendees can book their hotel online.
To download the Irrigation Association's 31-page Registration Brochure, click here.
Collaborative Effort
This year's Irrigation Show is being co-located with the National Ground Water Association and American Rainwater Catchment Systems Association.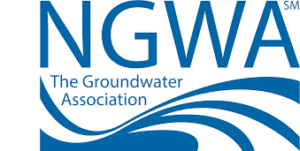 The collaboration hopes to provide an action-packed week focused on the one resource we all strive to manage responsibly — water.

The show floor will give you a firsthand look at all of the latest products, services and technologies in landscape irrigation to help you expand your business, satisfy customers and grow your bottom line.
With two days to explore the exhibits, you can:
Inspect the latest technologies at the new product contest and watch the judging
Find solutions to ancillary landscape markets such as ponds, waterscapes and outdoor lighting.
Check out new and innovative products, and services.
Learn about the latest business trends and irrigation best practices.
For exhibitor information, including booth space fees, assignment, and a 2019 floor plan, click here.
Educational Opportunities
One of the top reasons for attending the Irrigation Show and Education Week is the comprehensive educational offerings.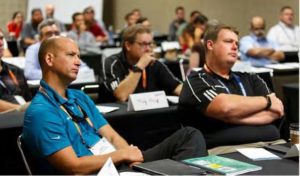 Education Week offers five days of seminars, technical programs and education classes conducted by some of the industry's leading experts and researchers. You can discover the latest cutting-edge research, technologies, techniques and best practices in landscape irrigation, while earning valuable CEUs.
This year's "Industry Insights" promise to take the educational sessions to a whole new level. Here's a taste of the new and different topics being offered during Industry Insights:
The Irrigation Consumer Bill of Rights
Mobile apps for water conservation in turfgrass
The H-2A & H-2B guest worker program
Severe weather and ways to protect your crew and clients
Social media and how to use it in your business
Rainwater collection Wi-Fi technology and how to incorporate it in your business
Research updates and reports from around the country
These sessions vary from 30- to 90-minute formats and include everything from single presentations to panel discussions.
Certification Exams
Exams for the following certification programs will also be available at this year's Irrigation Show:
---
Source:
Irrigation Association