Preparation Is Key to
Avoiding Summer Hazards
---
Keeping your irrigation and landscaping crews safe during the busiest time of the year can be challenging.
But heat stress, stinging and disease-carrying insects, and poisonous plants are all seasonal hazards your crew members will face.
Did you know that, according to the Bureau of Labor Statistics, the green industry is one of the more dangerous in the U.S.? The occurrence of nonfatal occupational injury or illness is 87% higher for landscapers than for private industry as a whole. And the rate of fatal injuries for landscaping services is five times higher.
You can take steps to prevent an unfortunate incident from occurring on your watch.
Be Prepared

Does your company provide regular and ongoing safety training? Reinforced training is a critical component of an overall safety protocol. Be sure to augment company-wide training sessions (such as regarding heat-related illnesses) with daily safety reminders.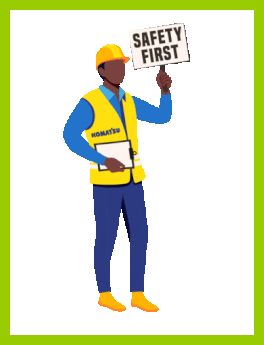 Creating a Culture
of Safety

Is safety part of your company's culture? If not, here are four steps you can take to change that:
Follow OSHA instructions precisely. Learn about all local, state, and federal safety regulations to proactively prevent problems.
Develop documented safety policies based on hazard assessments of standard job sites.
Create a solid training program around your safety policies to address all potential hazards your workers may encounter.
Evaluate training effectiveness. (For instance, you could administer a brief quiz before and after training sessions to determine if your workers have retained the information.) Observe your crews on job sites following training to ensure safety policy compliance.
Source:  Irrigation & Lighting
And if your crew members have experienced any close-call incidents, incorporate those situations into your training and safety policies as well.
Keep 'Em Cool
Make sure you provide your crews with the proper gear and supplies:
Plenty of water
A first-aid kit
Wasp spray
Sunscreen
Access to an air-conditioned work vehicle or cooling towels
If the job site offers no shade, have a canopy or tent available to provide some protection. Offer crew members the option of wearing light-weight long-sleeved shirts and wide-brimmed hats to protect them from the sun. (Light-colored breathable fabric is the best choice for company uniforms.)
Of course, part of being prepared involves starting and finishing early this time of year. Ramp up your site visits on the hottest days to double-check your crews' safety. Your workers are busiest now, and it's easy for them to lose track of time, so designate a crew member to encourage water breaks. On days of extreme heat, allow crews to knock off early.
OSHA and NIOSH have developed a Heat Safety Tool app that helps landscaping crews assess heat risk, identify signs and symptoms of heat-related illness, and administer first aid in a heat-stress situation.
Poisonous Plants and Pests

Poisonous plants, stinging insects, and disease-carrying pests should also be on your radar. The key to avoiding all of these problems is to minimize skin exposure.
–Article Continues Below–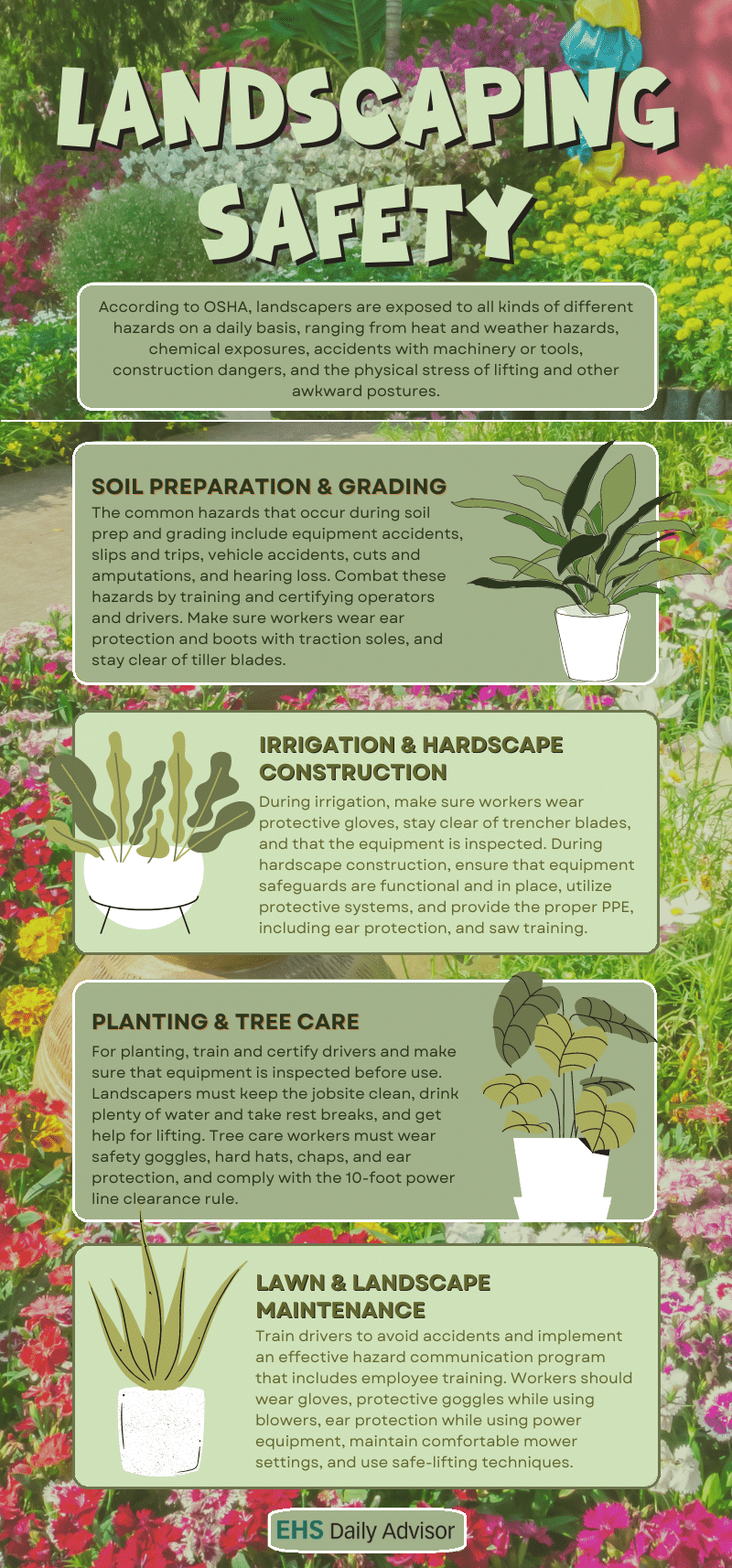 Workers who come in contact with poison ivy, poison oak, and poison sumac can promptly use preventive wipes to remove the urushiol oil, so make sure these wipes are part of your crews' PPE. They also must clean any clothing and tools that have come in contact with the plants. Make sure they never burn any of these poisonous plants, as breathing in the oil particles results in an immediate medical emergency.
Important to Know

If a first responder or your company representative reports a safety incident – a legal requirement in some circumstances – the result is often an OSHA inspection.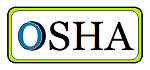 You may be cited for failing to comply with OSHA standards if your company does not have a documented safety program. The current penalty for a first-time safety violation is $15,625 per citation.
Crews can minimize the risk of disease-carrying pests by removing all mosquito-breeding standing water at the job site. Since rodents and wildlife often carry ticks, removing leaf litter or overgrowth will minimize the risk of contact. Wasp and hornet sprays, insect repellents, and even mosquito netting can all be included in your safety supplies.
Set a Good Example
The safety chain of command always begins with the business owner or manager. If you're not committed to safety, your workers will know. Be sure to do whatever you ask them to do. For instance, show up on job sites with the same PPE you expect your crews to wear.
Commit to your safety training schedule, even if your projects are under time constraints. Show your crews that you prioritize their safety.
The safety of your irrigation and landscaping crews is a big responsibility. By mitigating common hazards, you'll demonstrate to your workers that you're invested in their well-being.
---
Sources:
Featured Image: Adobe, License Granted
Irrigation & Lighting
American Journal of Industrial Medicine
Lawn & Landscape