The Latest Features from Hunter,
Rain Bird and Rachio
---
Has your business noticed an increased demand for smart irrigation controllers?
That's because today's young homeowners are more tech savvy than any previous generation. Having grown up around technology. they enjoy integrating various gadgets into their homes. For them, smart irrigation is a no-brainer.
As with most technology, updates to smart controllers are ongoing. Let's take a look at some of the newest features for three brands.
Hydrawise, Hunter's irrigation management platform, has been around since 2011, but is continually being updated with new capabilities.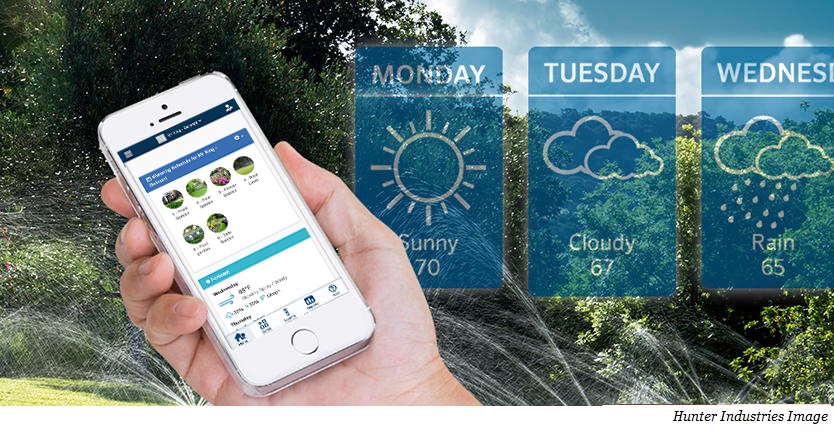 The Hydrawise cloud-based software is compatible with a range of Hunter controllers, and can also be used to retrofit an existing controller.
Hydrawise technology includes a Predictive Watering™ feature that automatically adjusts watering schedules based on a variety of environmental factors, such as past, current and forecasted temperature, rainfall, humidity, and wind speed. The controller gathers this information via the Weather Underground's live stream of forecasts and current weather data.
Hydrawise controllers offer the option of adding multiple weather stations, as well as accessing national weather stations (such as those located at airports).
No Wi-Fi?
Wi-Fi capability is built into the Hydrawise controller. But for homeowners who do not yet have Wi-Fi, these controllers include a touch screen that enables easy programming without Wi-Fi connectivity.
And it offers manual seasonal adjustment settings from 0% to 300% when programming offline.
Hydrawise software is available via web login, and as a downloadable app from the Apple® App Store or Google Play™ Store. And it can be voice activated through Amazon Alexa, HomeSeer, or Control4devices home automation technologies.
Optional add-on flow meters are easy to install. Every Hydrawise controller has built-in meter sensors to generate interactive reports of water usage and watering activities, as well as automatic alerts in the event of broken pipes or faulty valve wires.
An 8-zone Hydrawise HPC smart controller retails for about $330.
The ST8-2.0 is Rain Bird's 8-zone smart controller with an improved Wi-Fi connection and app connection speed. (Note: Wi-Fi is not built in; an add-on module is required.)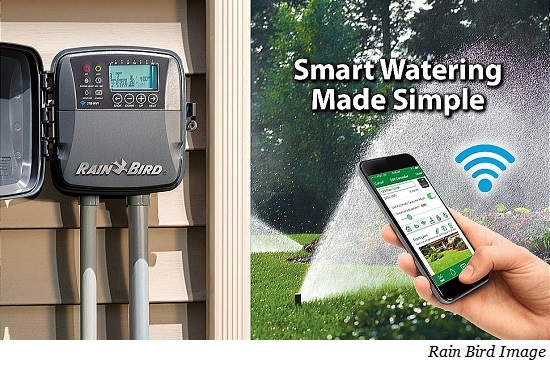 Rain Bird's downloadable app is available from the Apple® App Store or Google Play™ Store. 
The Rain Bird app is fully customizable, so every zone can be set up with a different name, photo, frequency, start time and run time.
The controller's automatic seasonal adjust feature takes into account season, local weather, temperature and humidity. Forecasts are based on zip code averages and on-site weather stations.
Water Savings
Architecture Lab rates the Rain Bird ST8-20 as one of the best for its water-saving features.
Extensive testing and EPA certification ensure a minimum of 20% water savings over other conventional devices available on the market.
The ST8-2.0 also has a Rain Delay feature, which allows homeowners to manually stop scheduled irrigation for up to 14 days. Afterward, irrigation will begin again according to the automatic schedule. It also can enable manual watering for a single zone or all zones.
The Rain Bird app also enables notifications to be sent regarding watering events, freeze warnings or whenever watering has been delayed. And it can provide water usage reports to maximize efficiency.
The ST8-2.0 uses manual controls with an LED display as well as voice control via Amazon Alexa and Google Assistant. It's available in both indoor and outdoor models for around $160.
Rachio is a relative newcomer to the irrigation industry, having been founded in 2013. As a result, the company produces only smart irrigation controllers; conventional controllers are not available.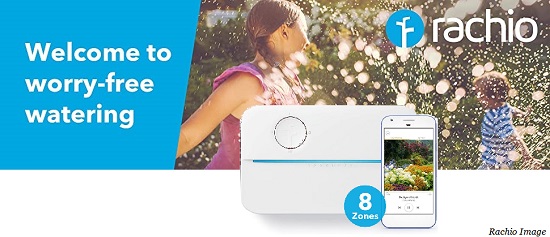 The Rachio 3 8ZULW-C is an 8-zone smart controller that can be Installed in 30 minutes or less without the use of special tools. As with Hydrawise and Rain Bird, the Rachio downloadable app is available from the Apple® App Store or Google Play™ Store.
The 8ZULW-C uses a system called Weather Intelligence Plus to provide "hyperlocal" weather scheduling, by combining Weather Underground data (from national weather stations, satellites and radar) with data from 270,000 personal weather stations, so forecasting is accurate to the location of the controller. The Weather Intelligence Plus system includes a self-healing feature that will automatically switch to the closest reporting station if the selected weather station stops reporting data for three or more days. Rachio will then send a notification of the change via email.
Easy Installation
With the Rachio 3 series, setup is a snap. Pop off the magnetic cover to expose the wire clip terminals. Then, using your fingertip, easily slide the wire leads into the connectors – no tools required.
Once the leads are connected, plug in the controller, pop the lid back on, and continue setup via the Rachio app.
This Rachio controller has an operating temperature range of -31 to 140 degrees Fahrenheit, and includes both rain and soil sensors. In addition, it offers multiple "skip" features that allow users to automatically skip unnecessary watering due to rain, wind or freeze. Water usage and savings reports provide both real-time and historical data.
The 8ZULW-C controller works with most major smart-home platforms, such as Amazon Alexa, Apple HomeKit, and Google Assistant. The Rachio 3 8ZULW-C retails for about $250.00. (A weatherproof enclosure is sold separately for $29.) Optional flow meters are available as an add-on.
---
Sources:
Featured Image: Adobe, License Granted
Hunter Industries
Rain Bird
Rachio